Protest at Barbara Lee's Fundraiser
During the time several thousand were protesting Israel's ongoing slaughter in Gaza on July 26th, 2014 across the bay in San Francisco, a contingent of folks gathered to challenge Barbara Lee, a supporter of military aid at one of her fundraisers at a winery in the island town of Alameda, California. We talked to attendees that shared our outrage at that policy and we even had a brief talk with Barbara Lee herself. Photos, story, and video below.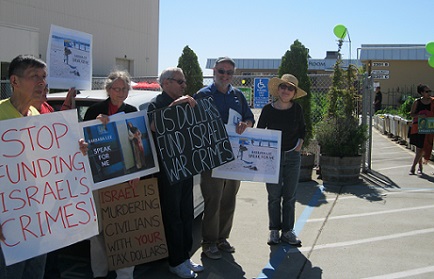 By this time in the Israeli attack on Gaza, already 1,000 Gazan people had already died, the overwhelming majority civilians, including hundreds of children. It was on this day we stood outside a fundraiser for a politician supporting massive military aid to Israel.
We have been collecting signatures on an on-line petition demanding that Barbara Lee end her support for military aid to Israel. That petition had already garnered over 1,600 signatures. Some of us gathered there have been campaign contributors to her campaign before, and many of us appreciate the courage she has shown in resisting President Bush's military attacks in the Middle East, and currently opposing President Obama's escalation in Iraq. (H.Con.Res. 105). While she has shared words of concern about the plight of Palestinians, we are sickened by the real results of the hardware sent by Lee and the rest of Congress to the Israeli military.
Here's a link to the video on youtube.com where we confront Barbara Lee directly about what needs to be done for Palestine, ending military aid. We were appreciative that she took time (about 3 minutes) away from the fundraiser to speak with us, but again, rather than speaking of action, she gave us the usual platitudes about "two-state solution" and "ending the blockade of Gaza", something that she has favored for years. Lee said nothing about why she continues to support military aid to Israel.